Vampire Facial – Scary Good Results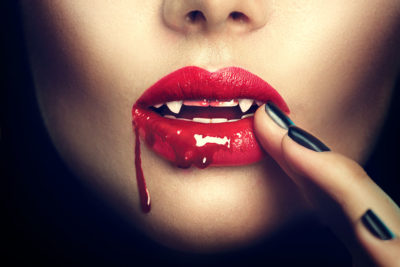 The Vampire Facial – Scary Good Results
Have you heard of this new trend called the Vampire Facial?! No, it's not a treatment that you save just for Halloween – it's actually one of the latest facial treatments to hit the skincare market! This amazing treatment might leave your face spattered in blood but it touts huge results!
How does it work?
The Vampire Facial is actually a combination of microneedling followed by the application of PRP (platelet-rich plasma). The platelets contain very high levels of growth factors, which, when used on the face, stimulate high rates of cellular turnover. So basically this facial is using your own blood to promote healthy skin activity, like increasing collagen and elastin which can help smooth wrinkles and give your skin a more hydrated look.
What is the process?
The treatment begins with a simple blood draw to obtain the blood needed for the facial. Your blood is put through a centrifuge to isolate your platelets. You'll then receive a micro needling treatment to open the skin. Your own blood is then used as a mask for your face – giving your skin all the benefits of the high dose of PRP.
What is the recovery and are there any risks?
You'll leave the treatment with your face red and perhaps a bit tender. You might need a day or two of downtime before you can really see the benefits of your treatment. Makeup should be avoided while your skin heals. Although the Vampire Facial might sound a bit intense, it is actually a very safe treatment. There are rarely any side effects involved.
Ready to give it a try?
If you are looking to rid your face of premature wrinkles or just looking to achieve an overall fresher appearance, this treatment may be for you! Newman & Co can't wait to assist you with your beauty goals. Our highly trained staff is here for you. We can't wait to see you in the studio!